In this post I would like to introduce you and try to give you a better idea of what SaaS multi-cluster management for VxRail HCI System Software (formerly known as VxRail ACE Analytical Consulting Engine) is.
VxRail HCI System Software consists of multiple, integrated software elements that extend VMware native capabilities. The software delivers a seamless, automated, operational experience, keeping your infrastructure in a continuously validated state to ensure your workloads are consistently up and running. It is designed for VMwarere, with VMware, to enhance VMware.
DellEMC SaaS multi-cluster management for VxRail HCI System Software is designed with the intent to be the trusted advisor to the IT operations team responsible for managing the VxRail clusters. It is a centralized data collection and analytics platform that streamlines monitoring and lifecycle management of your VxRail clusters at scale, improves serviceability, and helps you make better decisions to manage the performance and capacity of your hyper-converged infrastructure.
SaaS multi-cluster management complements VxRail's existing operational simplicity with operational intelligence for the VxRail clusters. The combination of intelligent monitoring and automated lifecycle management at scale can greatly benefit IT staffs struggling to balance their resources between infrastructure administration and efforts to transition to hybrid cloud.
Currently, SaaS multi-cluster management provides the following features:
– Web-based portal, MyVxRail, to perform multi-cluster management
– Centralized monitoring and reporting for all VxRail clusters in the environment
– Health scoring for a quick assessment of the environment
– Advanced performance metrics with anomaly detection for troubleshooting
– Resource forecasting for future capacity planning
– Lifecycle management operations including on-demand pre-update health checks, update bundle download and staging, and cluster updates
– Role-based access control to permission users with the appropriate privileges
Lets start with it. On your first run The MyVxRail: Terms and Conditions will display.
Click the I ACCEPT.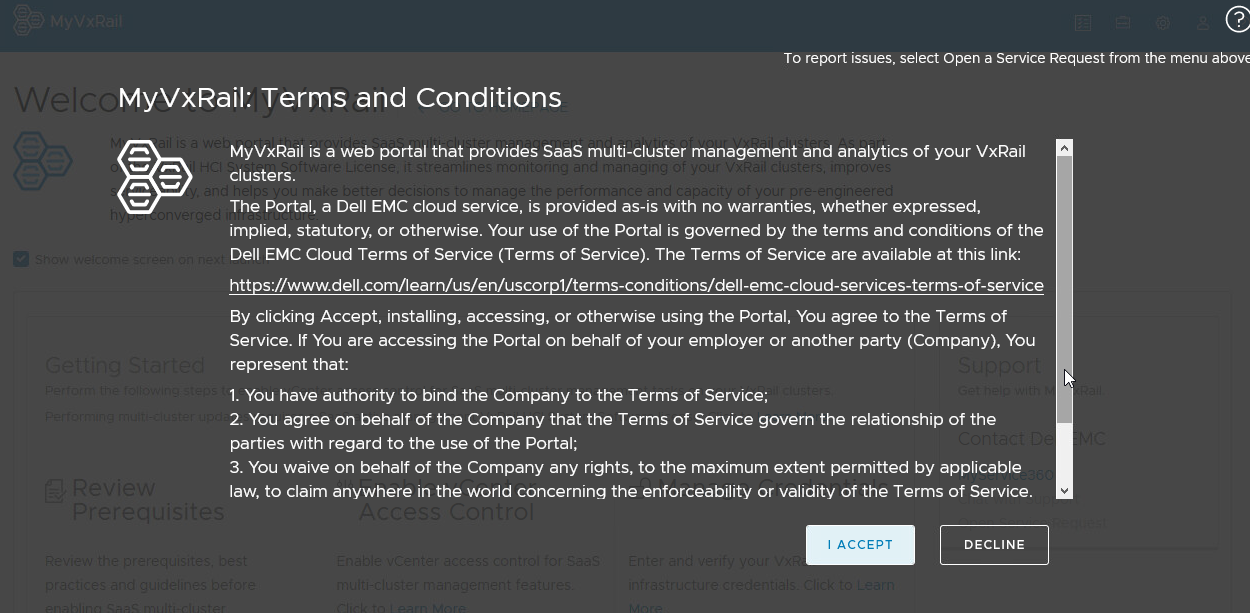 The What's New screen appears. To stop this message from appearing in future, the DON'T SHOW AGAIN checkbox can be selected before closing this screen.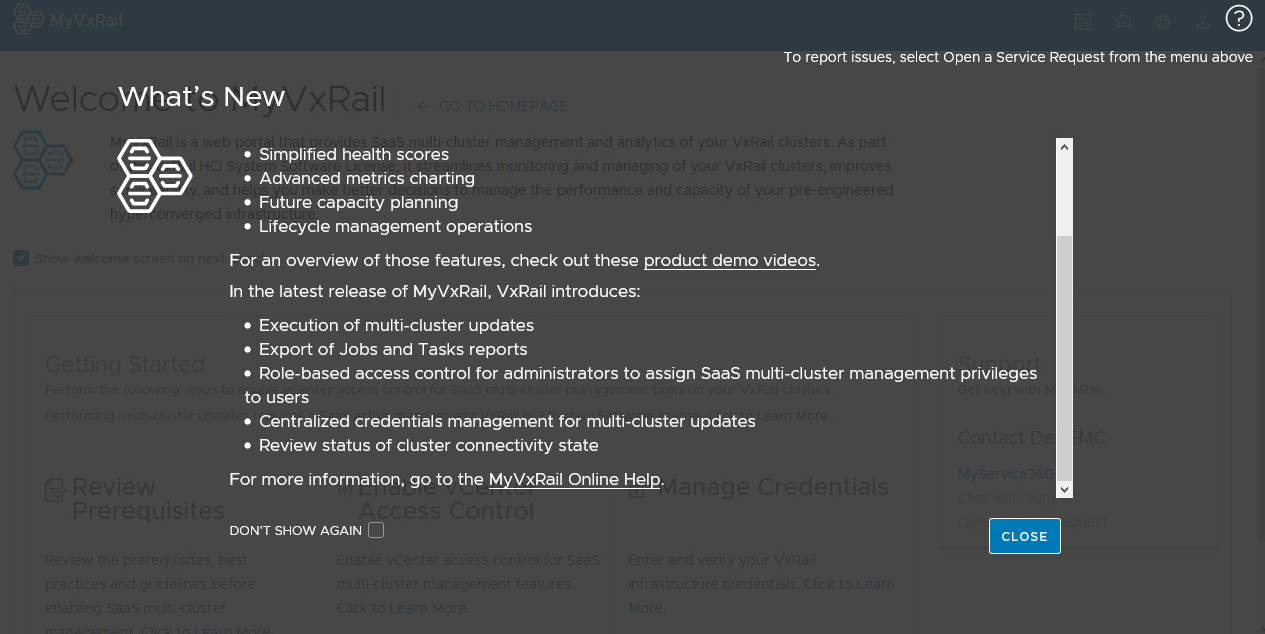 When you log in to MyVxRail, the Welcome screen provides instructions for you to set up your account for active management of your VxRail clusters.
You can review the list of steps by selecting Review.

The Review Prerequisites message box displays. It details the steps that need to be undertaken before SaaS multi-cluster management can be enabled.  Once you have reviewed accept the message:
1. Choose I have reviewed the prerequisites and have taken the necessary actions
2. Click Submit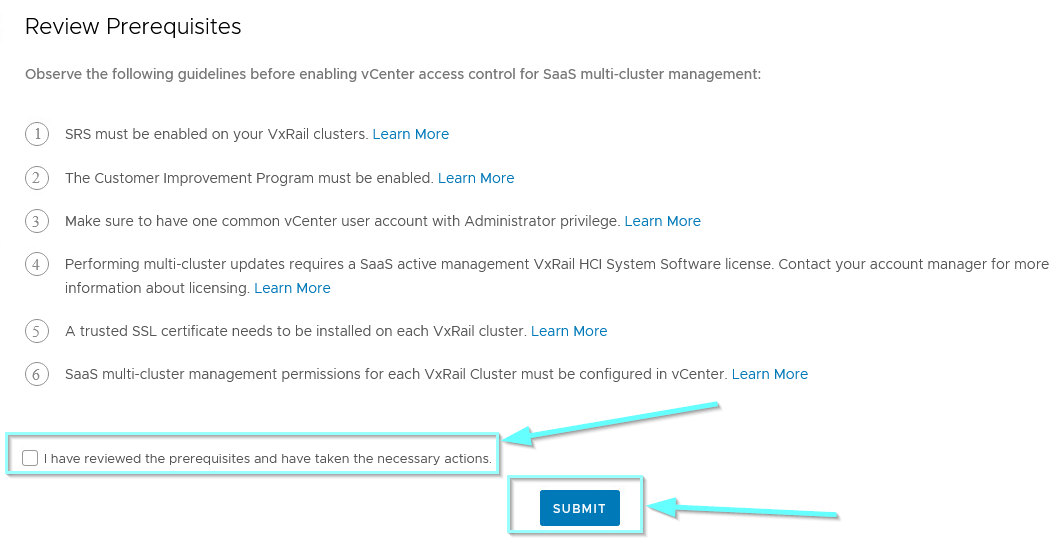 Active management requires role-based access control so that you can permission the appropriate individuals to perform configuration changes to VxRail clusters. SaaS multi-cluster management leverages vCenter Access Control for role-based access. This feature provides you the ability to control access and usage of SaaS multi-cluster management capabilities through roles you define on vCenter.
On the Welcome Screen, select Enable.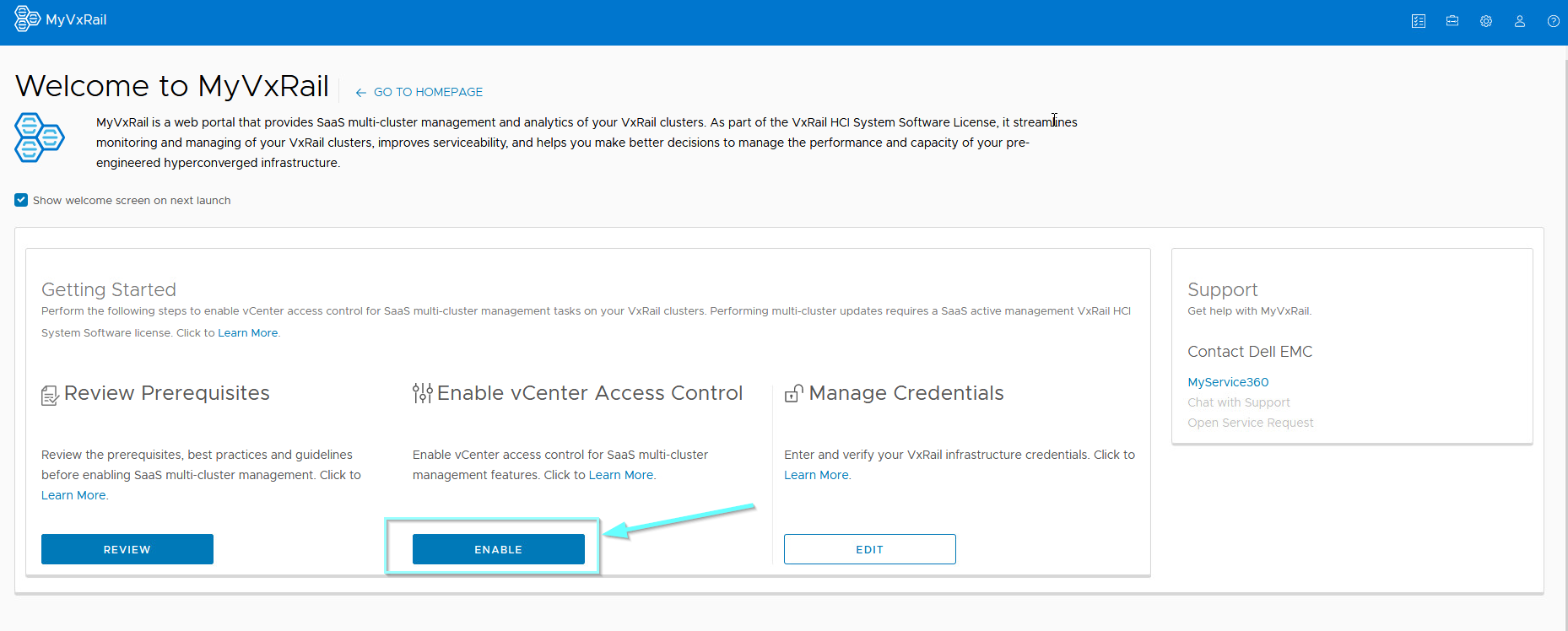 On the Verify Credentials screen, enter the vCenter account credentials.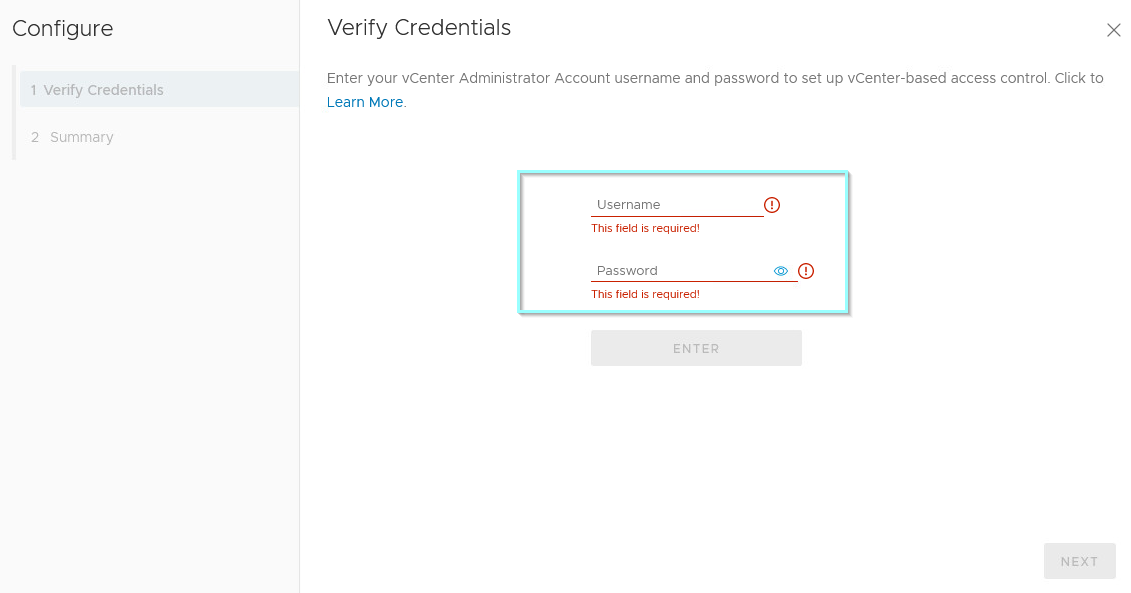 Click Enter: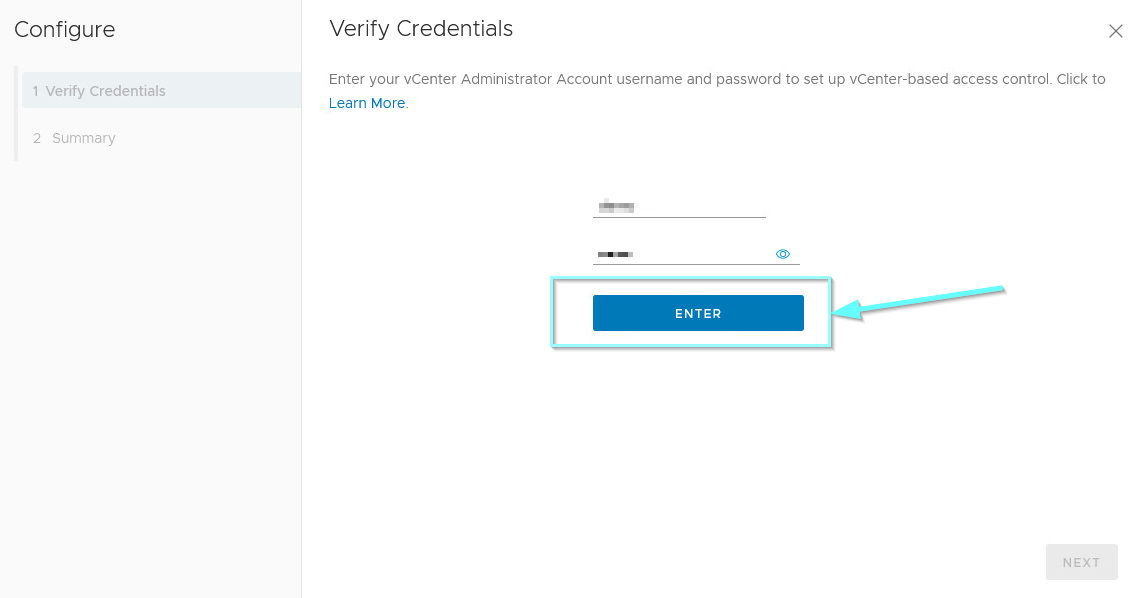 Enabling VxRail Clusters starts: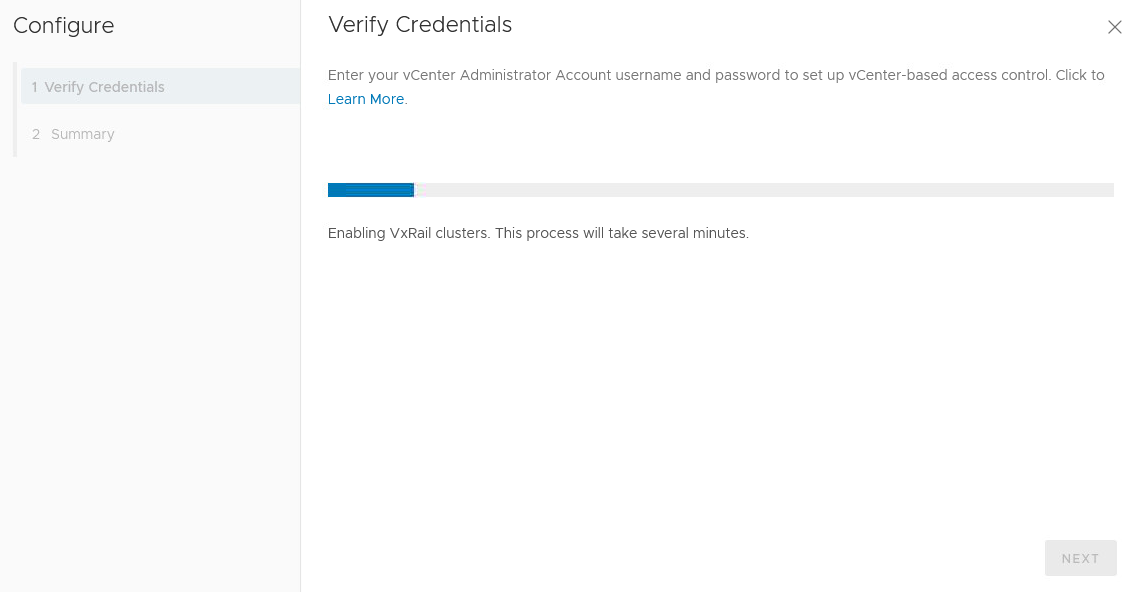 Click Next: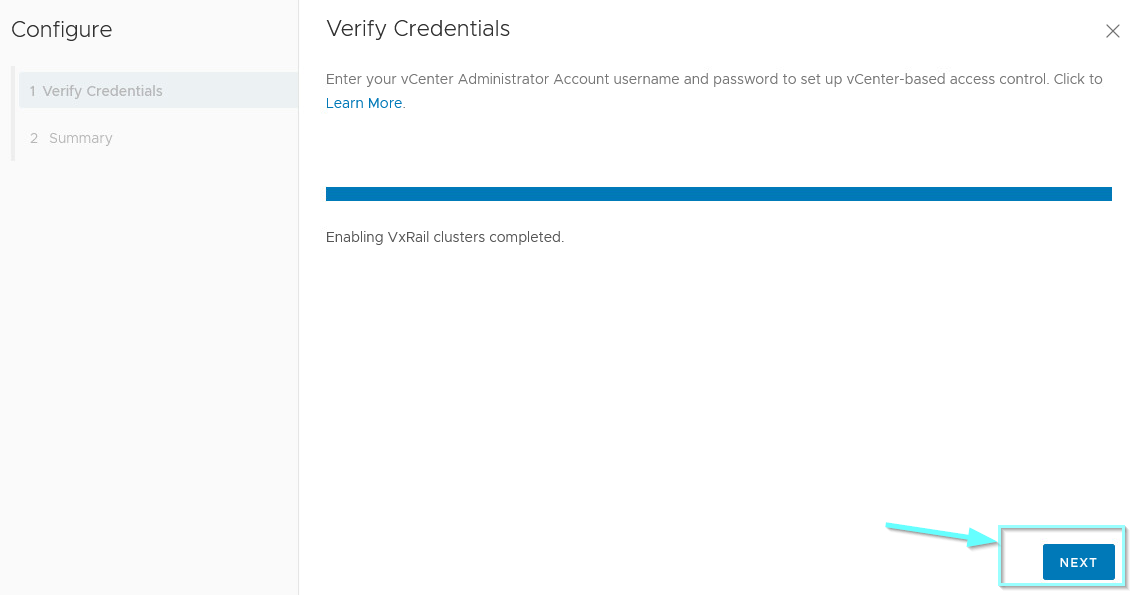 The vCenter based access control has been completed.
Click Finish.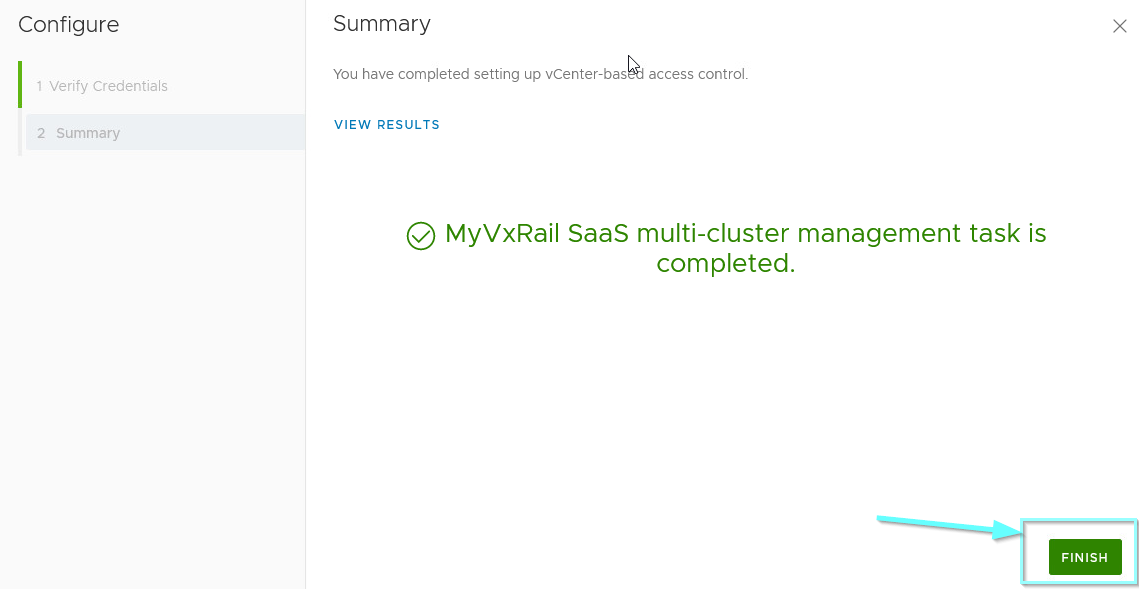 This operation registers MyVxRail onto the vCenter Servers that manage the VxRail clusters you see in MyVxRail.
During the registration process, MyVxRail presents privileges used for role-based access on vCenter.
MyVxRail registers the following privileges on vCenter:
– Download software bundle: downloads and stages the VxRail software bundle onto the cluster
– Execute health check: performs on-demand pre-update health check on the cluster
– Execute cluster update: initiates the cluster update operation on the clusters
– Manage update credentials: modify the VxRail infrastructure credentials used for active management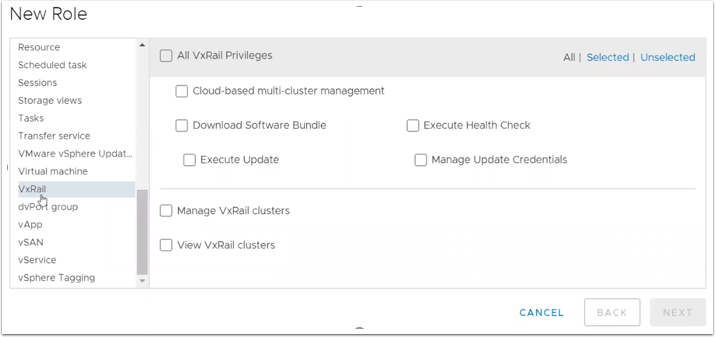 From vCenter, you now can customize roles specific MyVxRail privileges. For example, you can create a view-only role for Dell service personnel. You can create a role to perform cluster updates and assign that role to certain user accounts. While role-based access control is required for active management, it still can be used to control access for non-active management functionality on MyVxRail.
MyVxRail introduces VxRail infrastructure credentials management that streamlines multi-cluster updates. When performing a typical cluster update, you are required to enter the root account credentials of your vCenter Server, Platform Services Controller, and VxRail Manager in order to perform the operation. This step is repeated for each cluster update. In MyVxRail, the initial setup of credentials manager stores the necessary credentials so they can automatically be used for cluster updates.
Click Edit: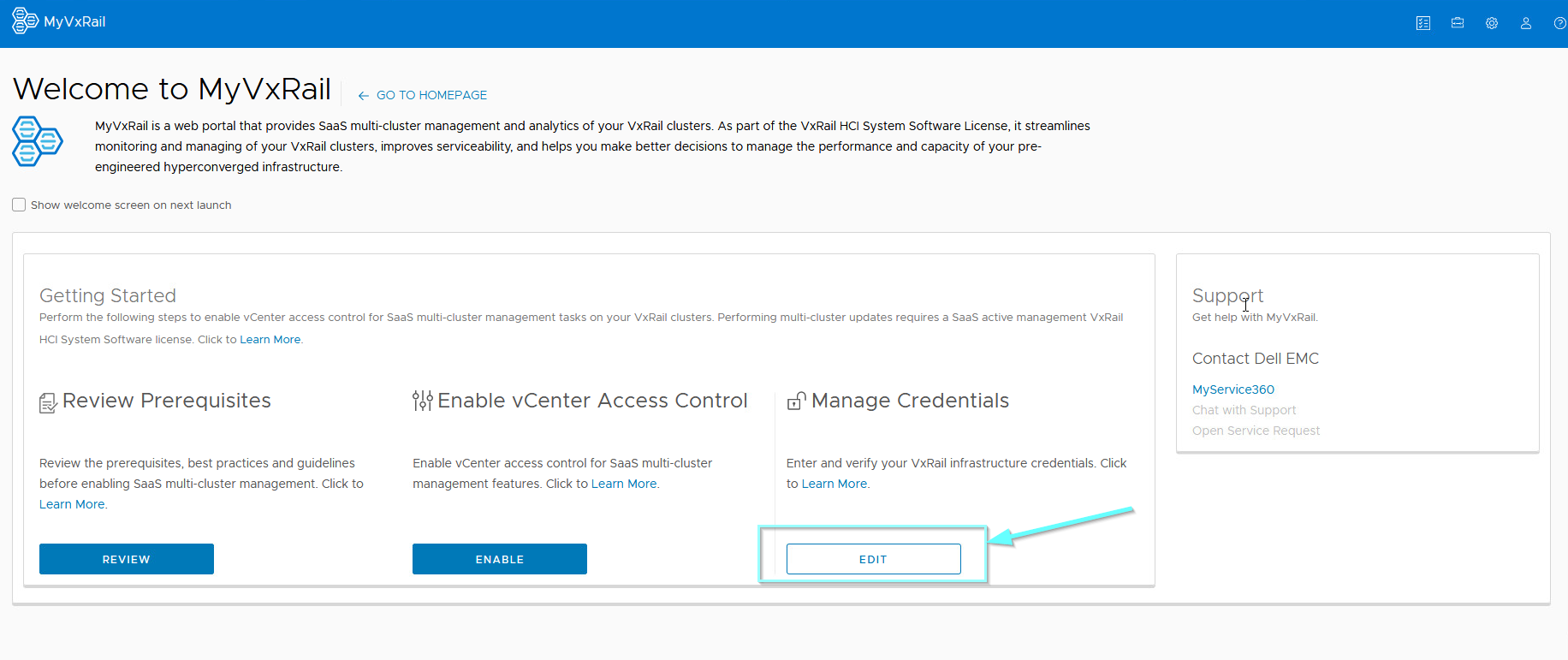 The Settings and Credentials screen displays. Select Credentials > Manage

To secure these credentials, they are stored locally on the clusters, not on MyVxRail. In addition, cluster update operations can only be initiated from MyVxRail while on the customer network as an added security measure.
Only users with the role that has the 'execute cluster update' privilege can initiate cluster updates. The user credentials used to initiate the update is call lockbox credentials. Enter the credentials provided in this lab.
You will perform credential verification to validate you have permissions to perform multi-cluster updates. Please enter the credentials and click Enter:

Now you can enter the root account infrastructure credentials for each cluster. Once verified, you are now ready to perform active management of the clusters.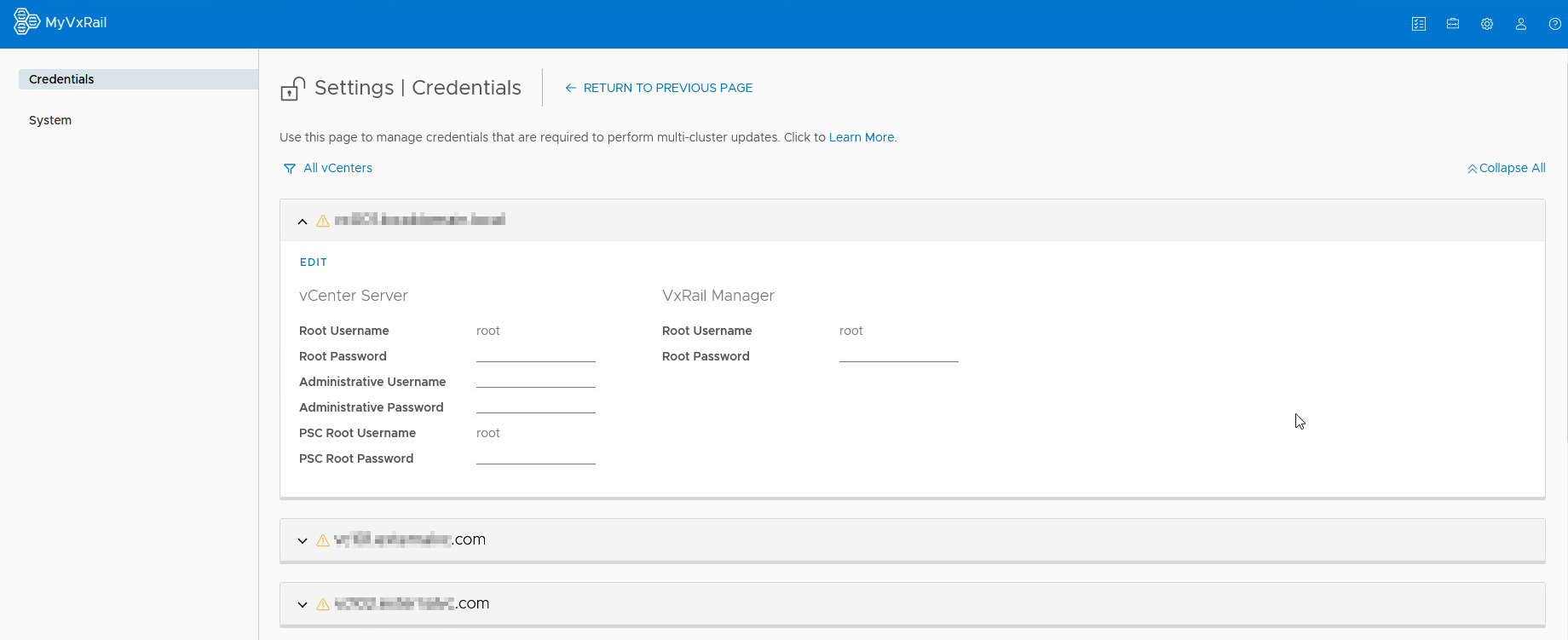 Now navigate the MyVxRail dashboard. Click on MyVxRail in the top left.

There are two different views to visualize your VxRail environment. The first view displayed is the Logical. It provides an overall summary of your VxRail infrastructure.
Select Physical.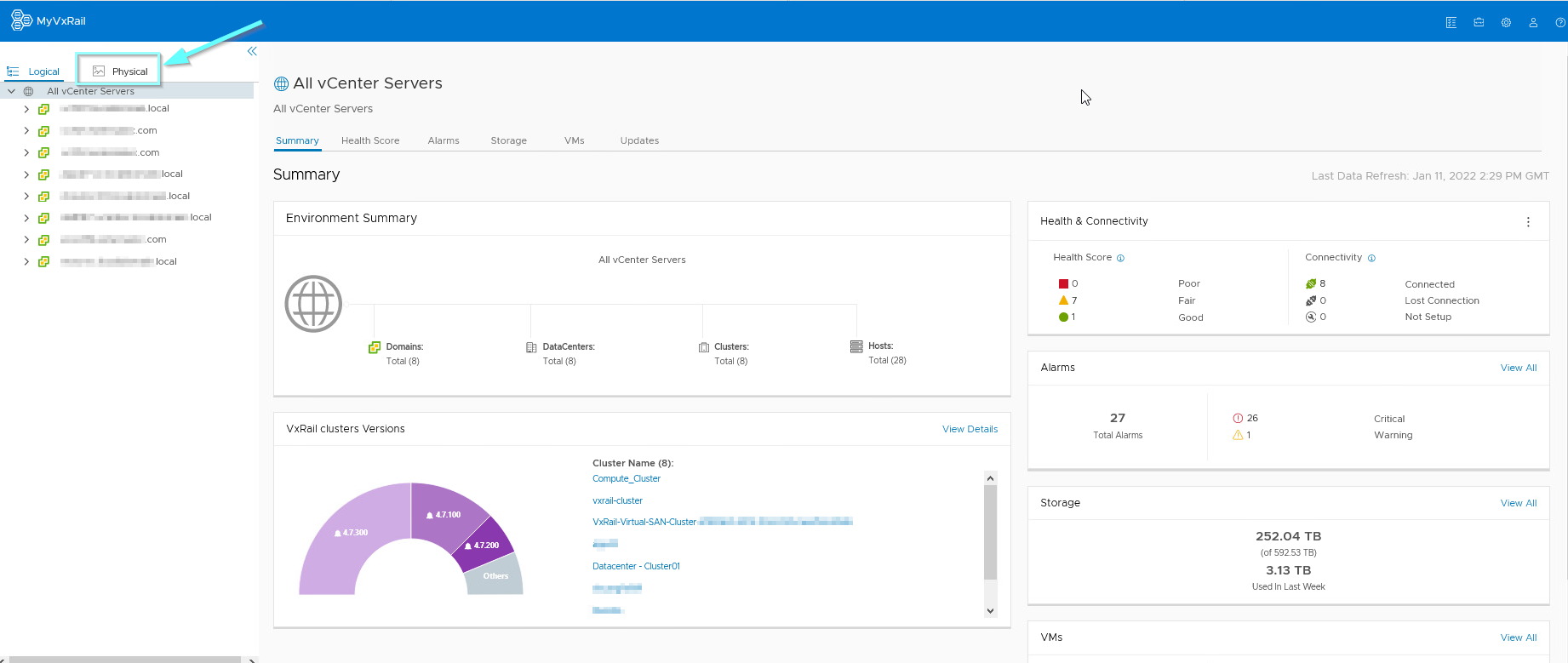 The Physical view enables the user to browse infrastructure based on Geographical location. A world map is presented and details of the locations in which VxRail infrastructure is located. A Summary of the infrastructure highlighting the health of the environments, any alarms and the severity of the alarms is displayed.
Now change to Logical view. Click Logical.
The Summary view displays an overview of your VxRail infrastructure including
– Environment Summary
– Health and Connectivity
– Alarms
– Storage
Click Health Score:
In the summary view, MyVxRail provides Health Score information. The Health Score is visible from within the logical and physical views and provides detail on the overall infrastructure health. Cluster health is measured using quantitative scores to allow you to quickly assess the status of your clusters and pinpoint which ones may need your immediate attention. I
Health score calculation is also impacted by alarms collected from vCenter.
MyVxRail provides an aggregated view of the VxRail estate. The overall health is an aggregated measurement of all cluster level scores. The ability to view individual cluster health, metric and reporting is available.
Displayed is cluster level information for the environment including a summary of the Health Score and Alarms. Please spend some time exploring the cluster level views.
Select Performance.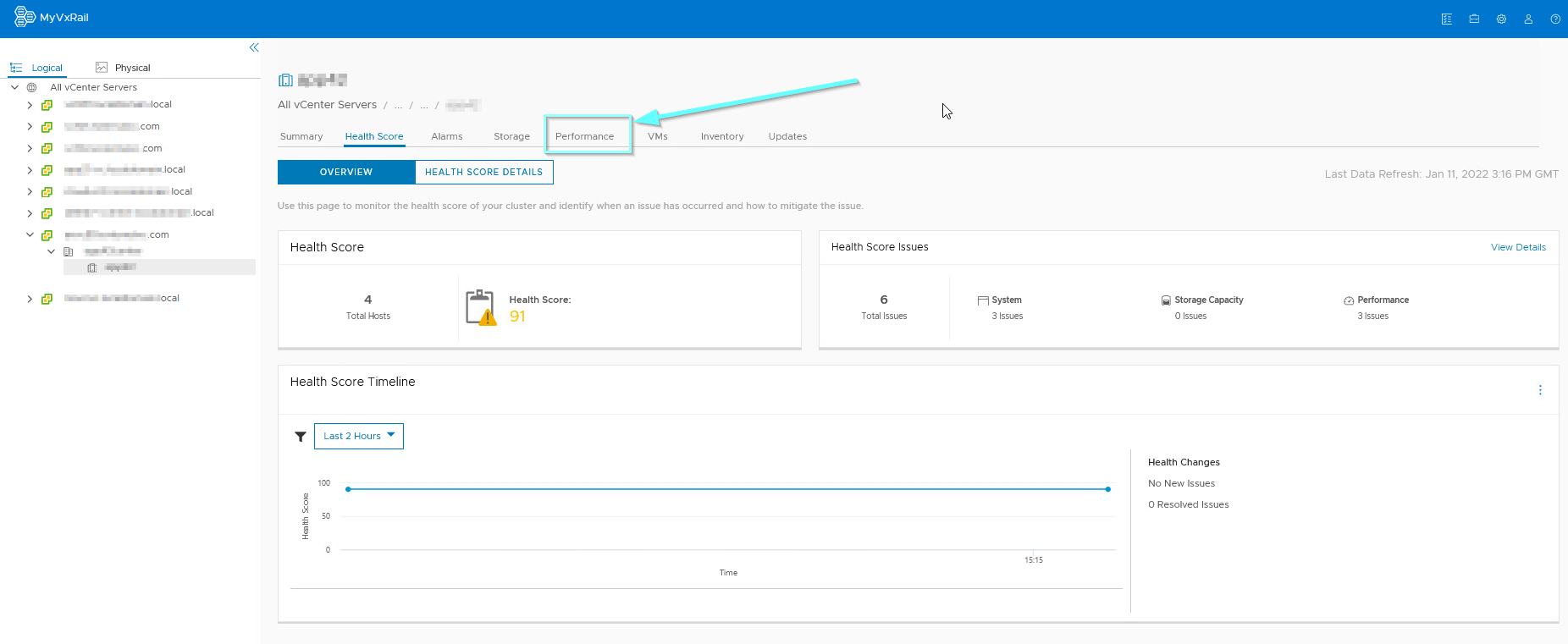 SaaS multi-cluster management collects advanced performance metrics and uses machine learning to understand your performance baseline. From this baseline, it can identify performance anomalies that can negatively impact your cluster health. These performance anomalies are reflected in the calculation of the respective clusters' health scores so that it gives you a very easy way to quickly pinpoint problem areas in your VxRail environment.
You can then use the advanced performance metric charts to troubleshoot and locate the time of anomaly to help root cause the issue.
Click Storage.

MyVxRail reports on storage capacity usage and can project storage usage over time. The information displayed is dependent on the object selected within MyVxRail. The information can be at an overall infrastructure level, vCenter or cluster level.
This is showing cluster level storage. Information provided includes:
– Storage Capacity
– Storage Capacity Details
– Storage Usage Trend
Click VMs: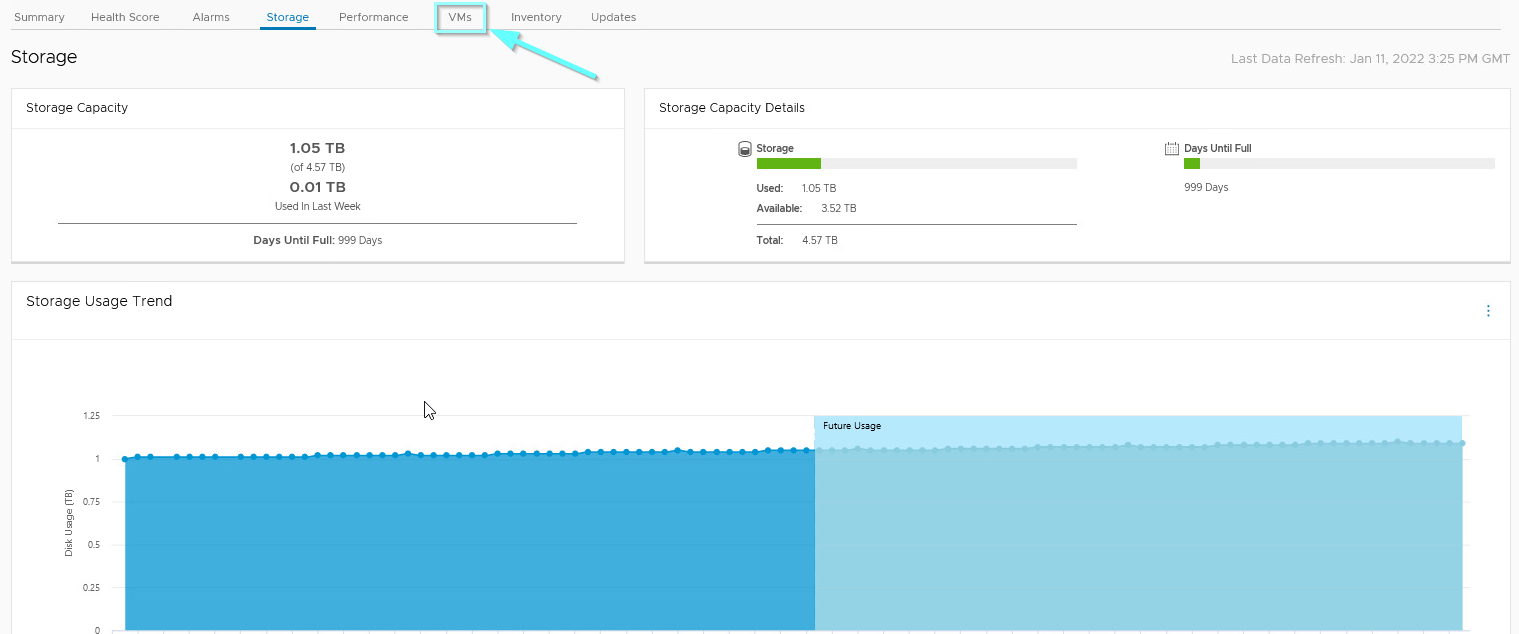 From MyVxRail, you can view reports on the information collected from vCenter about the virtual machines running on the VxRail clusters.
The information is available at the global, vCenter or cluster level. Information presented includes:
– Summary
– VM Utilization
– VM Details
Click Inventory.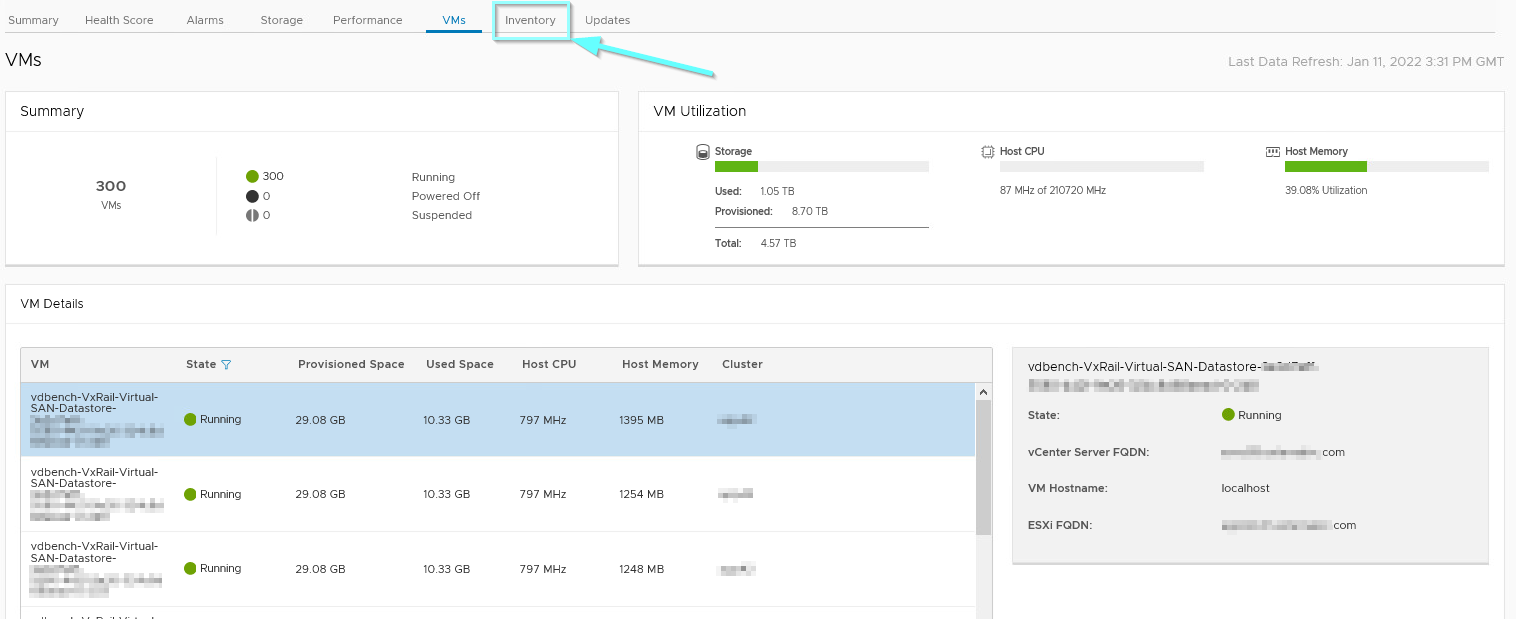 SaaS multi-cluster management collects information about the hardware and software running on the VxRail systems. Cluster level information and appliance level information is provided. This information is shared with Dell EMC Secure Remote Services. This is the configuration level information sent to Dell EMC.
Click Updates.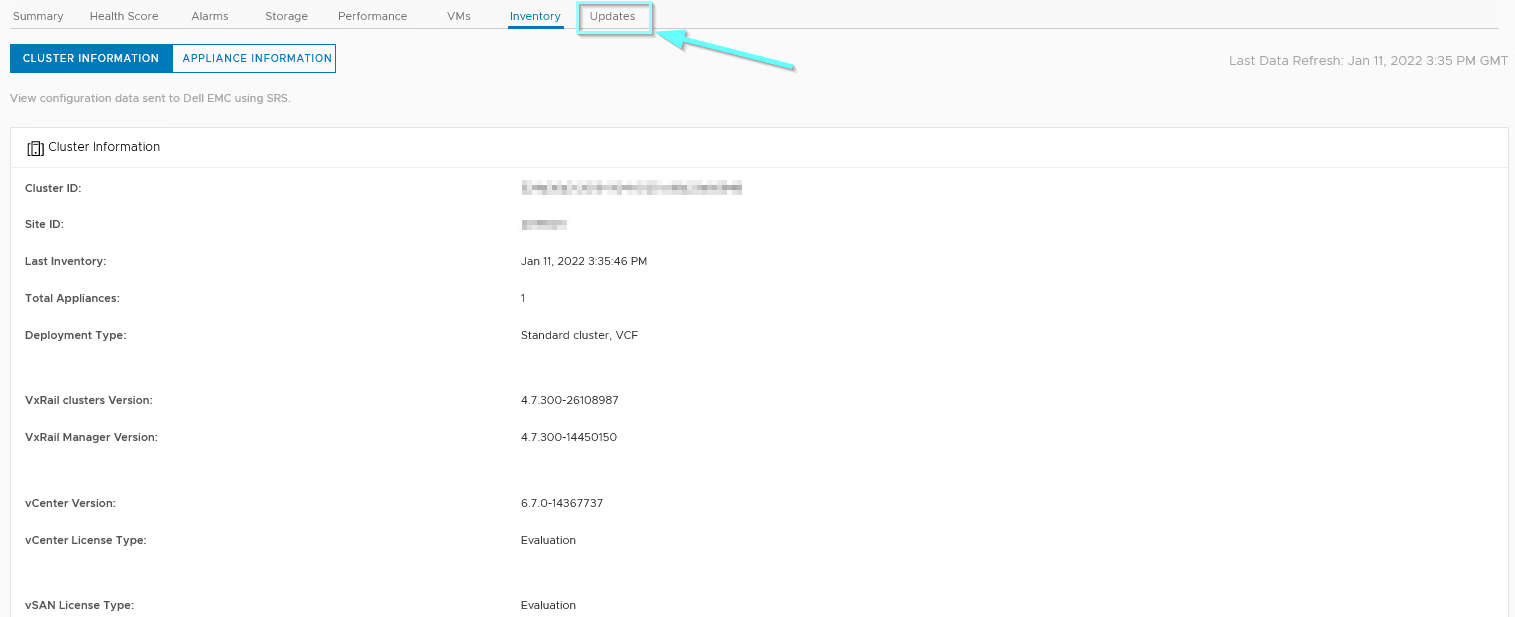 SaaS multi-cluster management provides the ability for a user to determine which VxRail Clusters are ready for a system update.
– Select All vCenter Servers
– Click Updates
– Select Pre-Check
– Select the Cluster Name checkbox
– Select Run Tasks

The Pre-Check pop-out will appear listing the Current and Available versions of the VxRail code. It shows which components require an update as part of the overall cluster update. To run the Pre-Check, click OK.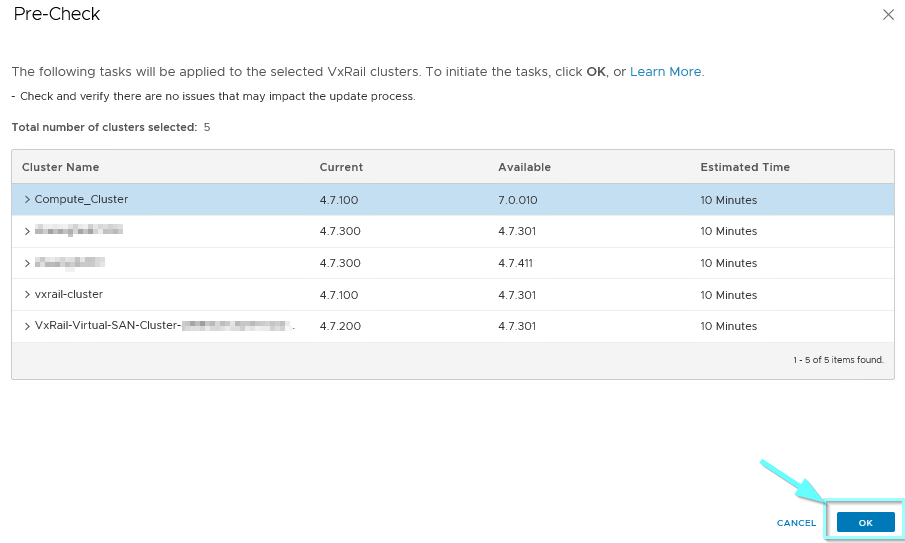 The Pre-Check job will run against all clusters selected. The status of the Pre-Check test completion is displayed.

All clusters will complete successfully.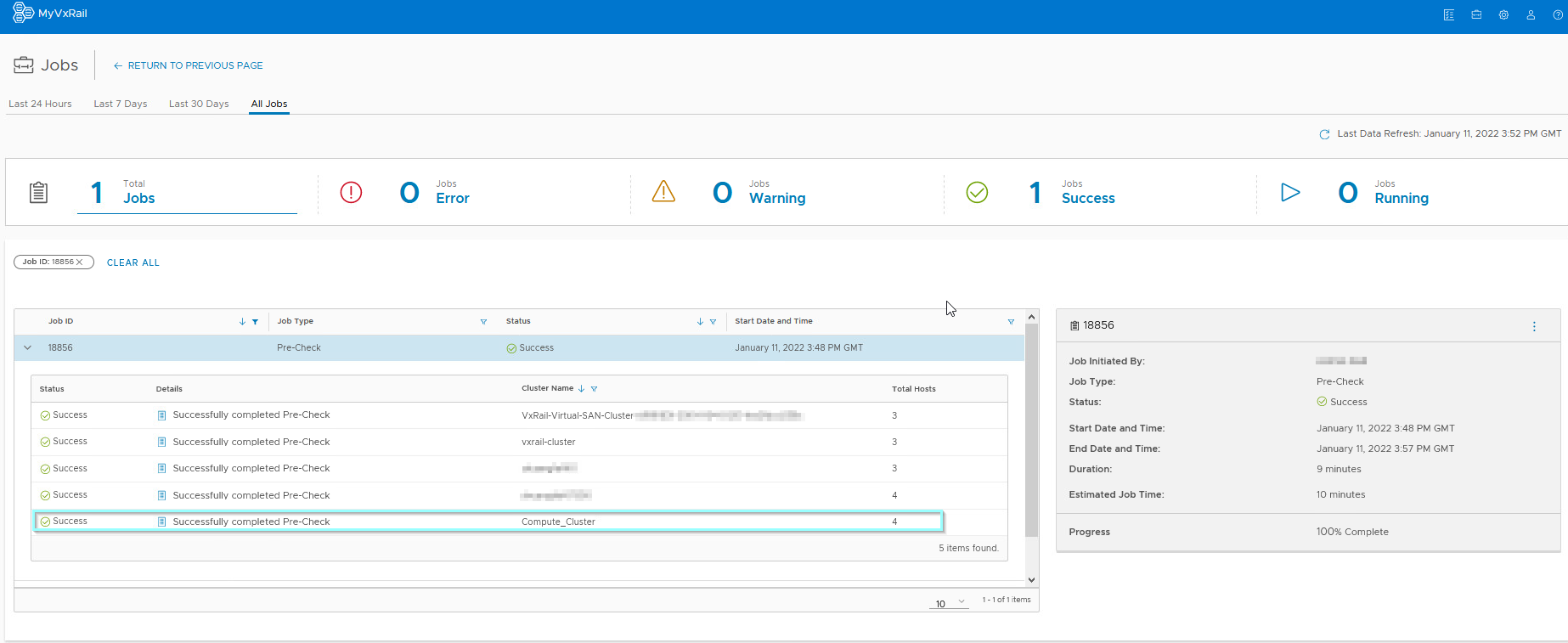 You can use MyVxRail to orchestrate update bundle transfers to multiple clusters which can save a lot of time for environments with many VxRail clusters. SaaS multi-cluster management leverages the hardware/ software version information it collects about the VxRail systems to determine the available download paths for each cluster. SaaS multi-cluster management also uses the component version information to determine which component needs to be updated for the cluster update and packages only those files into a single bundle to transfer to the target cluster. This feature can reduce the size of the file transfer and can benefit sites that have limited network bandwidth.
Updates are presented at multiple levels within the MyVxRail. At a global view, MyVxRail provides an aggregated view of all updates available across the infrastructure. We are currently viewing updates available at the cluster level.
The components within an update bundle are displayed.
– Select All vCenter Servers
– Click Updates
– Select Download
– Select the Cluster Name checkbox
– Select Run Tasks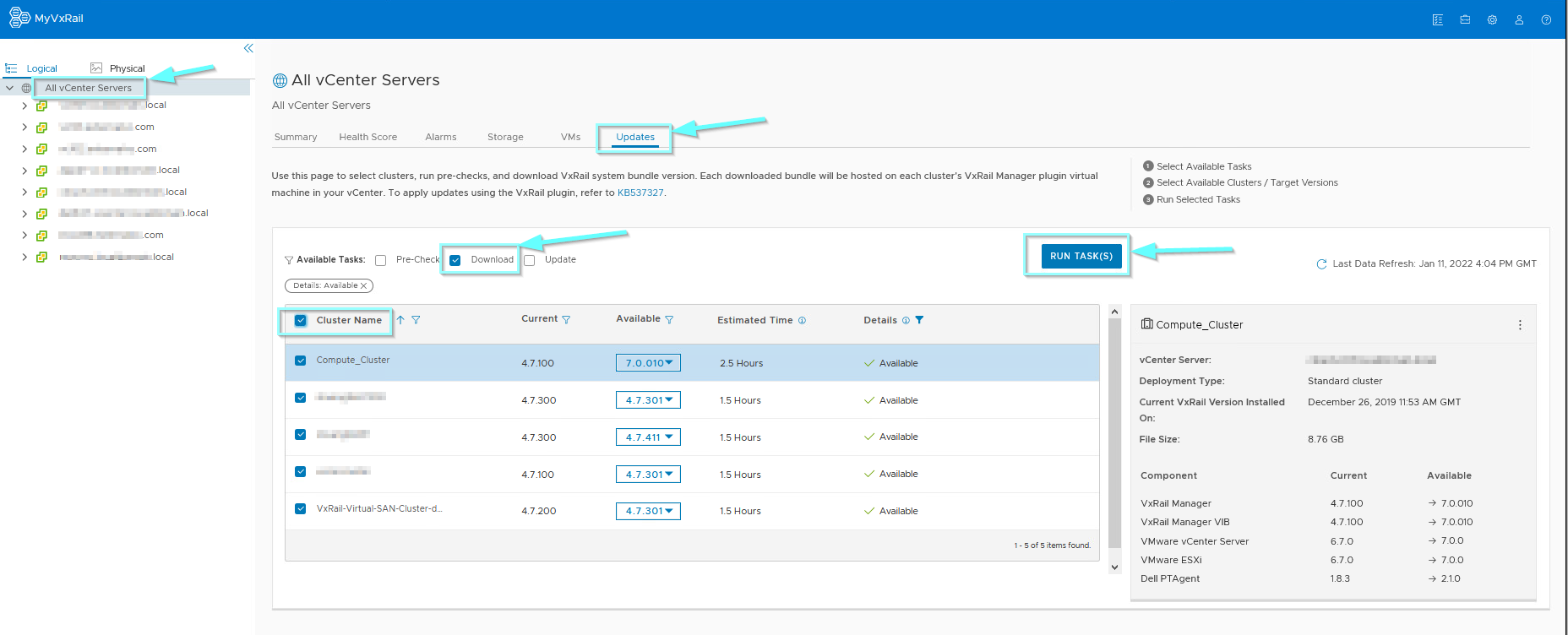 The download of an update bundle has been simulated. Feel free to click Download Bundle to get a feeling of how the process works.
The Download pop out appears providing detail on the Current version of VxRail code and the Available version of code for each cluster under management from within MyVxRail.
Click OK.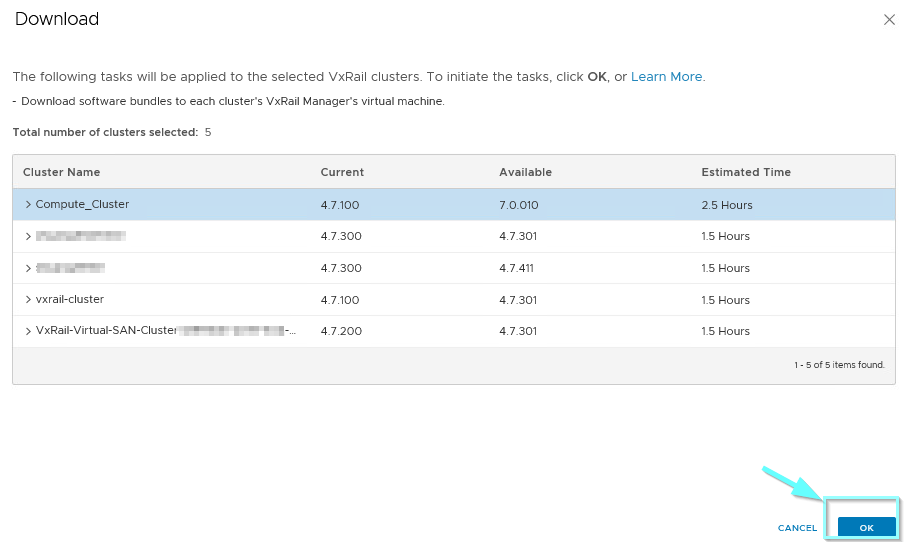 When complete the Job Status will show as Successfully completed Download.

Cluster update is complementary to pre-checks and update bundle download and staging which are essential to confidently plan for a successful cluster update. Pre-checks determine the cluster readiness before you proceed with a download operation that can take a significant amount of time and network bandwidth. A successful check allows you to accurately schedule a maintenance window.
When setting up the cluster update task, a time estimate is provided to show you the expected duration to complete the update based on the selected update path. The estimate is calculated using telemetry gathered from the VxRail install base for better accuracy. Like other LCM operations, you can find out which components need to be updated to arrive at the target VxRail version.
The steps to perform a cluster update are similar to the other LCM operations.
From the Updates tab, select Update. Customize the update paths for the clusters you want to update.
Then select Run Tasks.
The steps detailed are how the process would be performed within a production environment.
On the ensuing page, you are prompted to enter your vCenter user credentials to verify that you're privileged to perform active management. This feature is an added benefit for customers as it does not require you to enter root credentials for the VxRail infrastructure (i.e. vCenter Server, Platform Services Controller, and VxRail Manager) as you would on VxRail Manager. Instead, role-based access will determine whether you have permission to perform active management. If you do, MyVxRail will automatically enter the saved infrastructure credentials to perform the update. Customers can now limit access to these credentials to a select few while having a larger group of users that can still perform active management of VxRail clusters on MyVxRail.
I hope this helps to some of you!