As you may know, we have different options for how to upgrade your vRealize products. You can do it manually or you can use vRealize Lifecycle Manager which is quite more easier and comfortable because you can spare a lot of steps. I'll show you how to do this step-by-step. In my case, I'll use vRealize Log Insight as a product to be upgraded.
First of all, check VMware's release notes for your product and be sure to verify compatibility with your environment. If the new release is compatible, download the .PAK file from the VMware official web portal.
If you are not sure what version you have installed, connect to your vSphere Client and open the appliance virtual machine console and go to User > About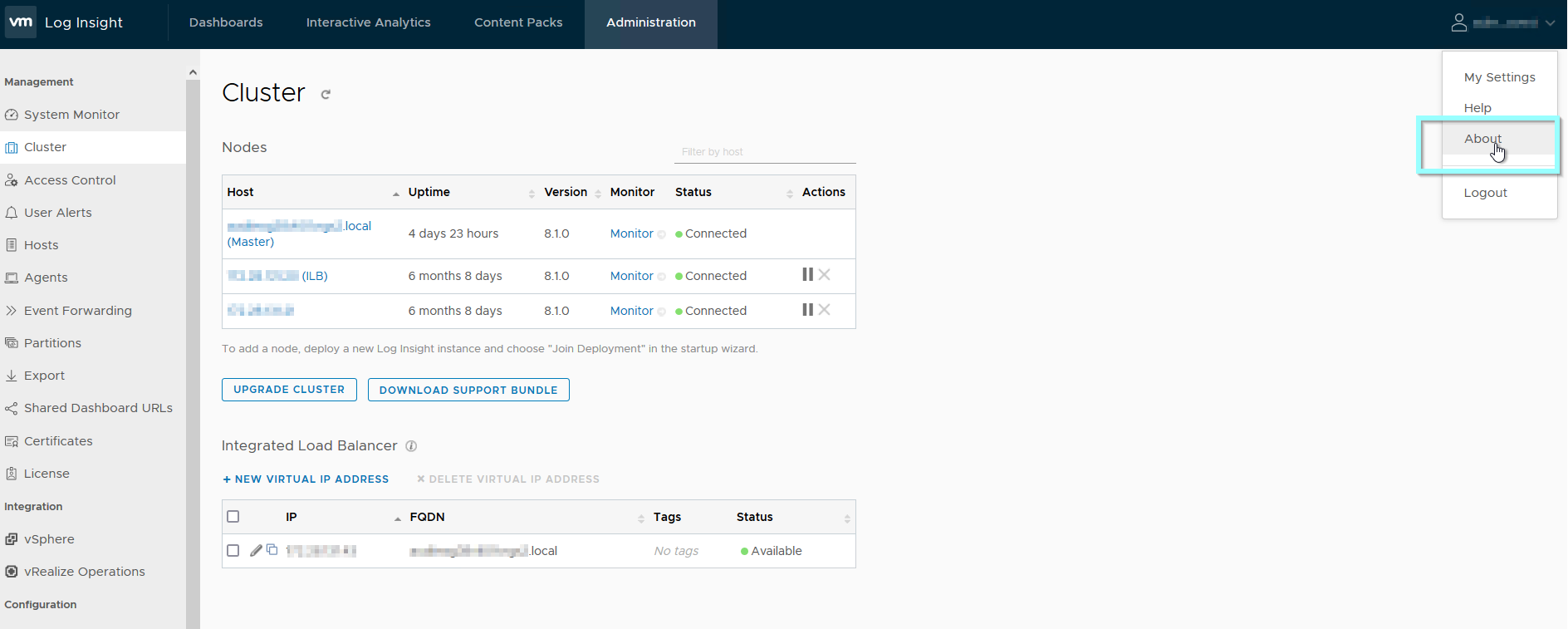 a new window will pop out with the Build number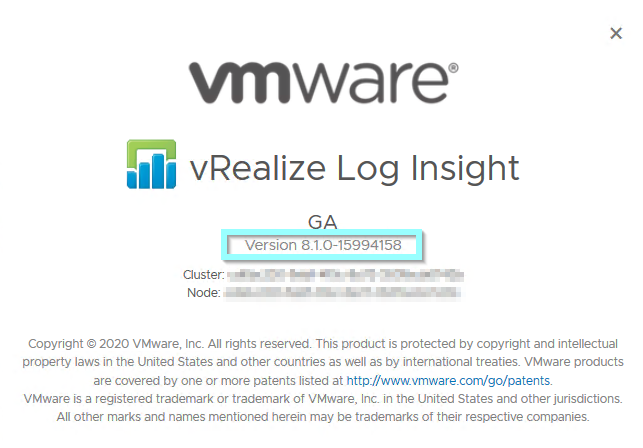 Close the window, and before you start with the upgrade verify that you have snapshots of all Log Insight nodes in the cluster. Go back to cluster view and choose Upgrade Cluster. Be aware that you must be logged in on your master node:

If you were on Internal Load Balancer you'll be redirected to the primary node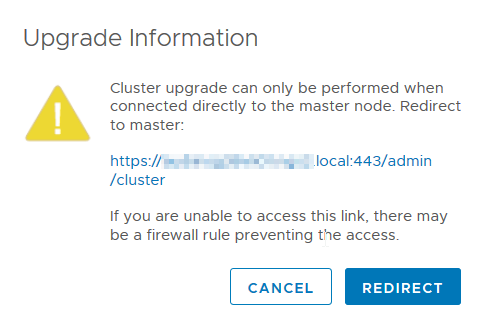 After clicking on Upgrade Cluster choose the .PAK file and Select option Open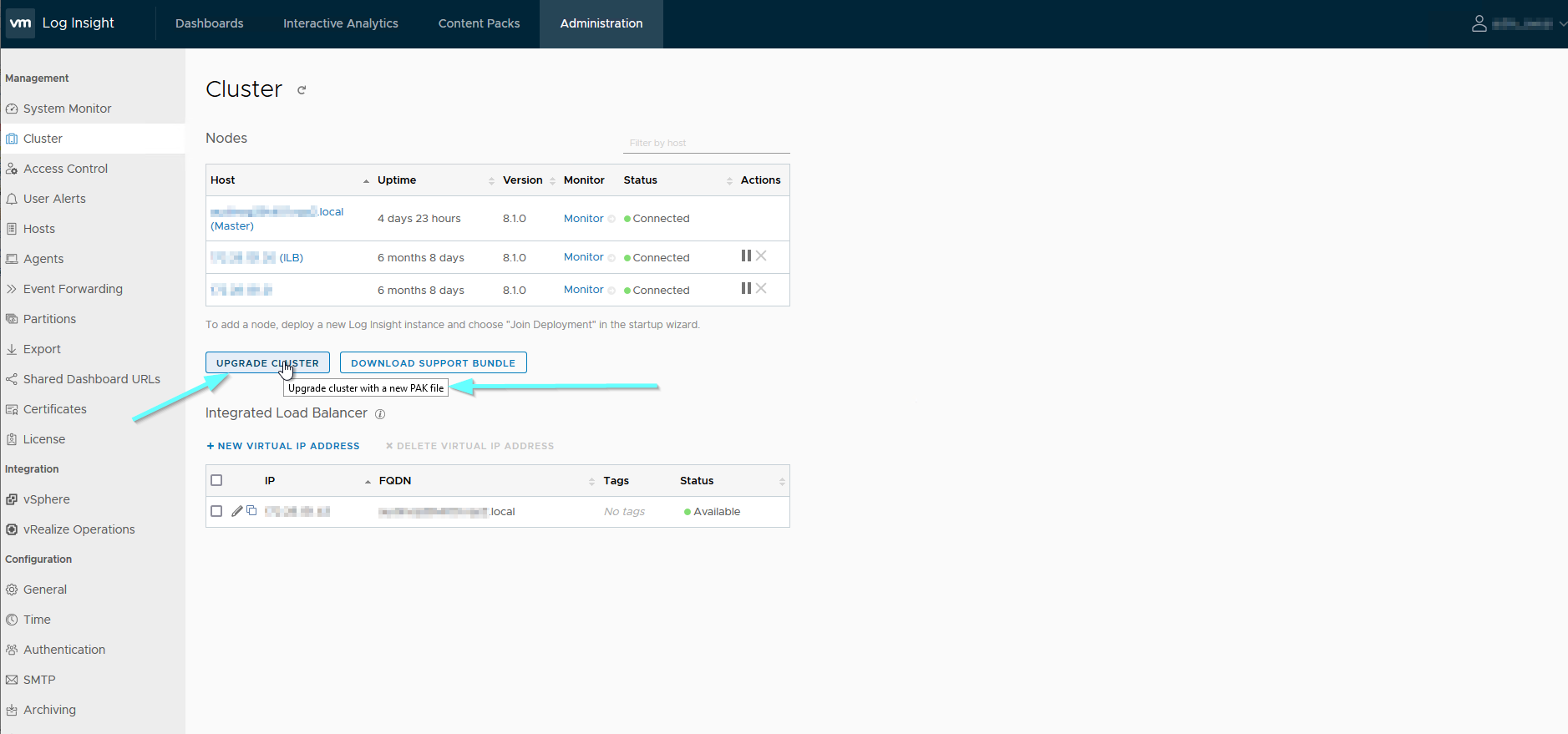 you will see the Upgrade Log Insight pop-up window in your portal, where you can click on Upgrade highlighted in blue.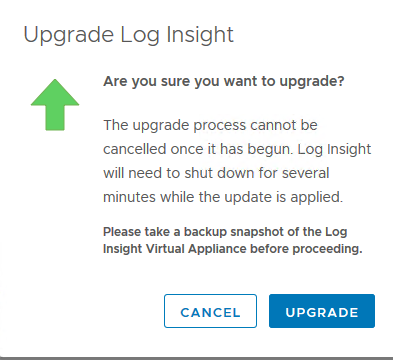 PAK file will be uploaded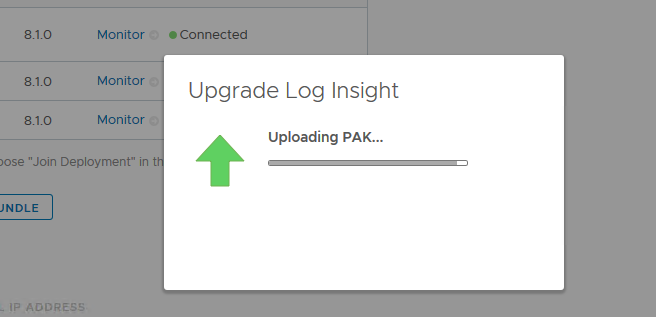 After the PAK file is done uploading Accept EULA so the upgrade process can start.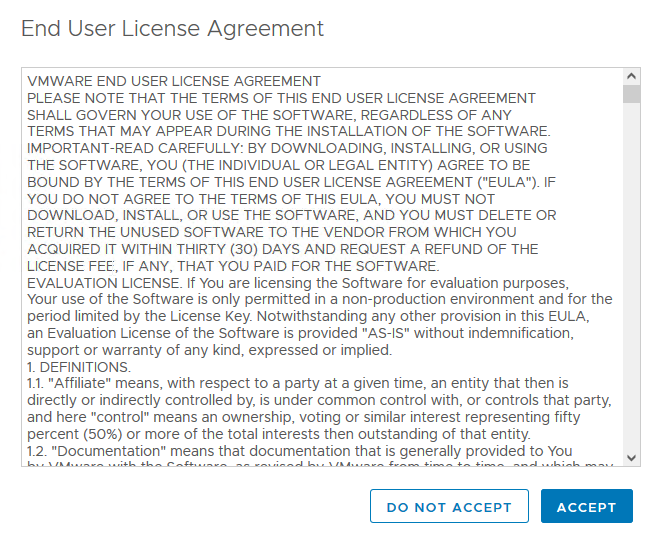 The upgrade process starts: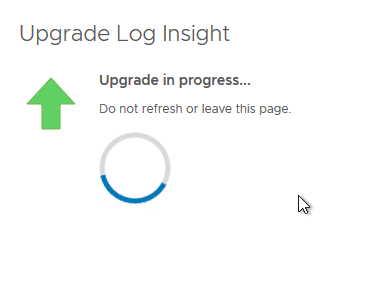 After some time the upgrade of your master node is completed.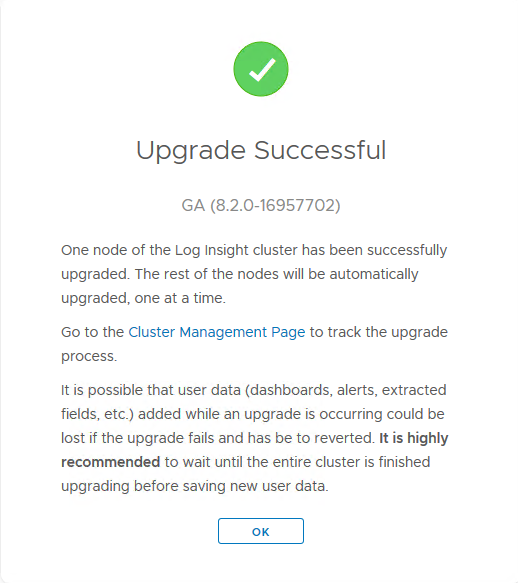 You can check the upgrade on other nodes if you go back to Cluster view. Here you can check the upgrade status of single nodes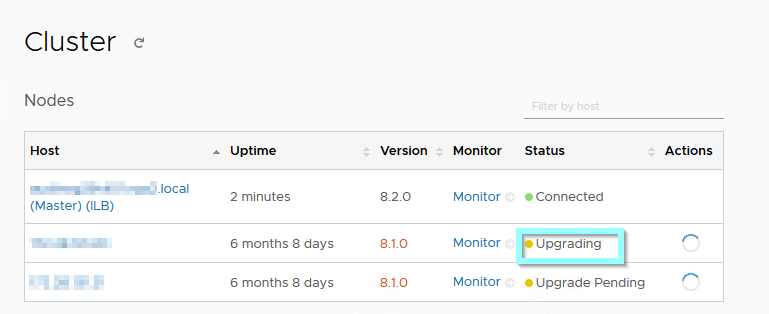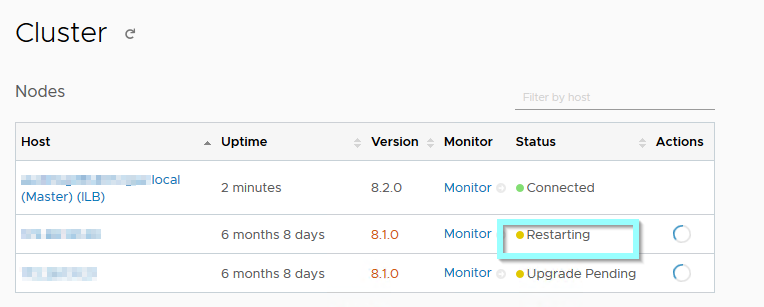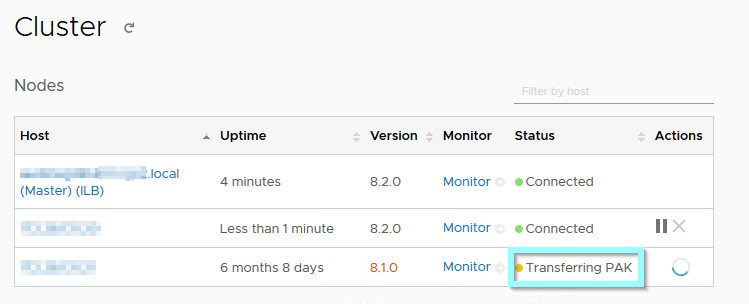 and finally is the upgrade finished on all nodes in a cluster.

If you have vRealize Log Insight Forwarder on other sites you'll have to repeat all those steps on your standalone Log Insights.
And now the upgrade of vRealize Log Insight Cluster with vRealize Lifecycle Manager (vRSLCM). The new vRealize Suite Lifecycle Manager (vRSLCM) provides one central user interface (UI) so you can use a single pane of glass for operations and configuration management. I assume you already have installed and configured your vRSLCM, created environments within, and added your data centers, vCenters, and imported existing environments. I will probably write something about install and configuring vRSLCM in my future posts.
The first step is to configure the new product binaries you downloaded from My VMware and make sure you download the correct binaries. VMware offers different binaries for install and upgrade. To upgrade vRealize Log Insight for example you will need the update binaries.
Click Settings and click the Binary Mapping tab:

now Click Add Binaries:
Select the location type. Local or NFS to map to a downloaded product binary with products, or select MyVMware to map to product binary downloaded from MyVMware. Enter the location of the Product Binary to use in the Base Location text box, and click Discover, select the needed binary file and click Add.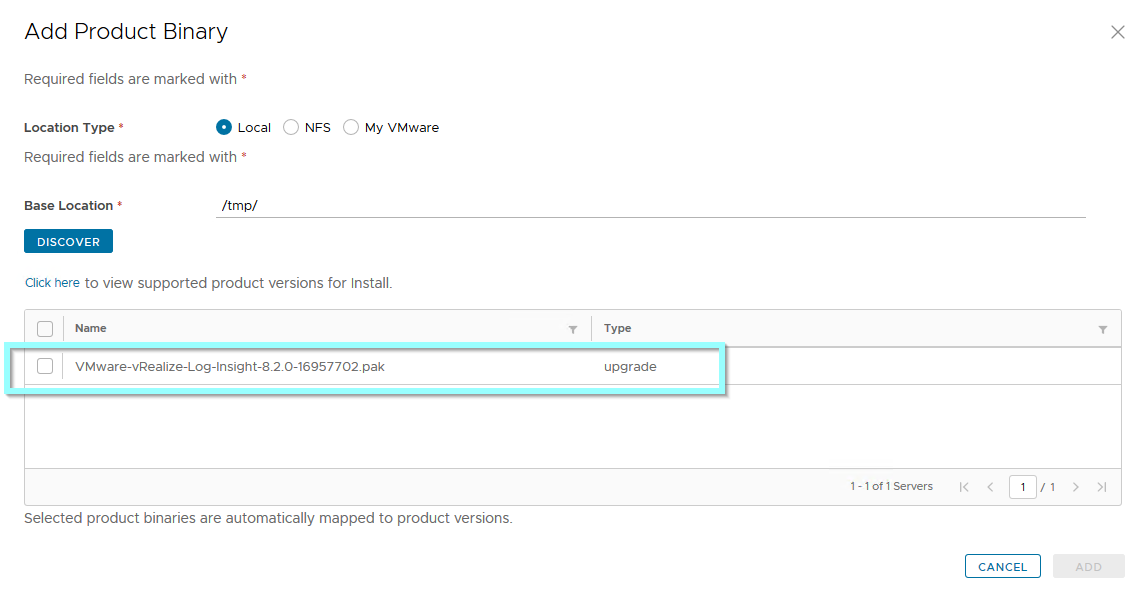 Now, to perform the upgrade click on Manage Environments and choose the environment you want to upgrade, and click on View Details

you will see an Upgrade button and before you start with the upgrade create snapshots first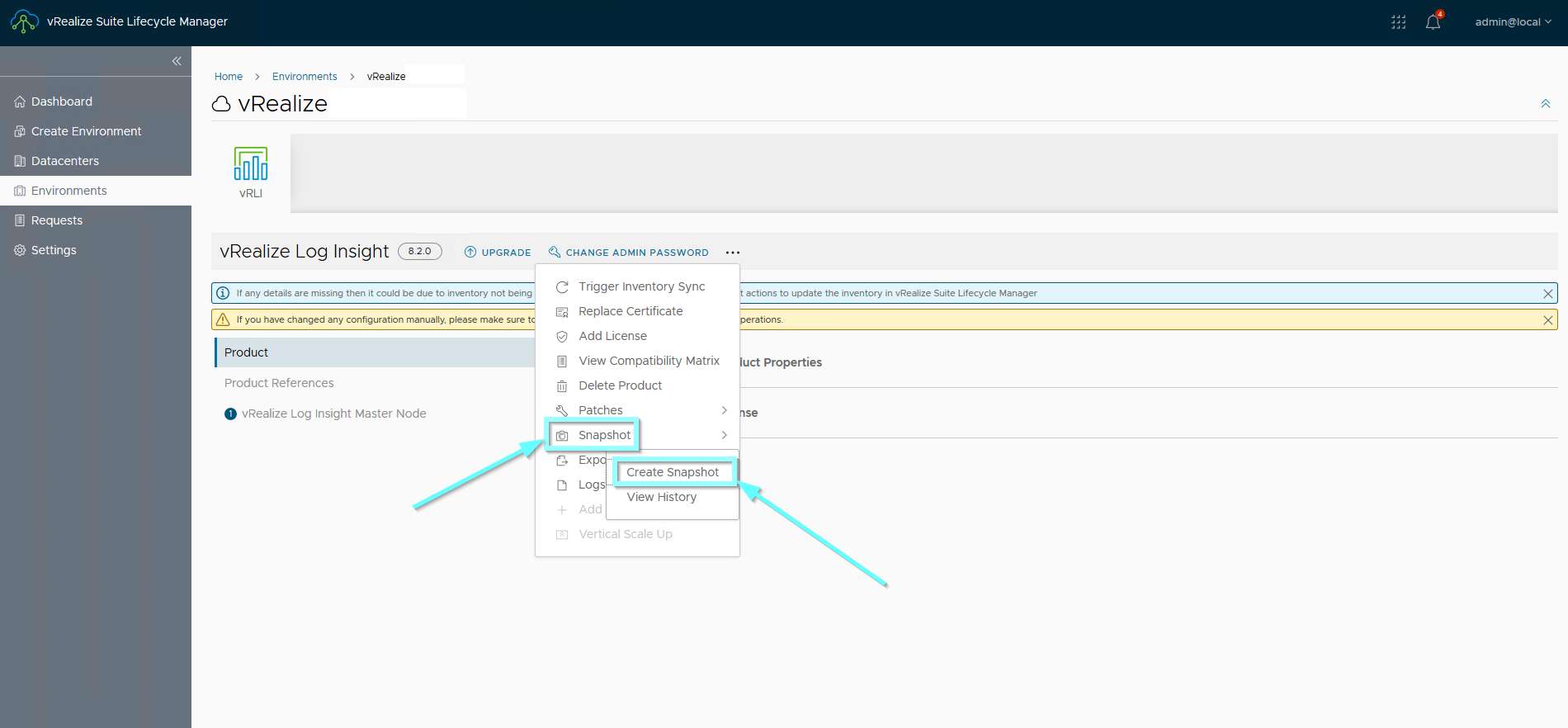 you can do this if you select the (…) in the right top corner of the vRealize component tile you want to upgrade and choose Snapshot > Create Snapshot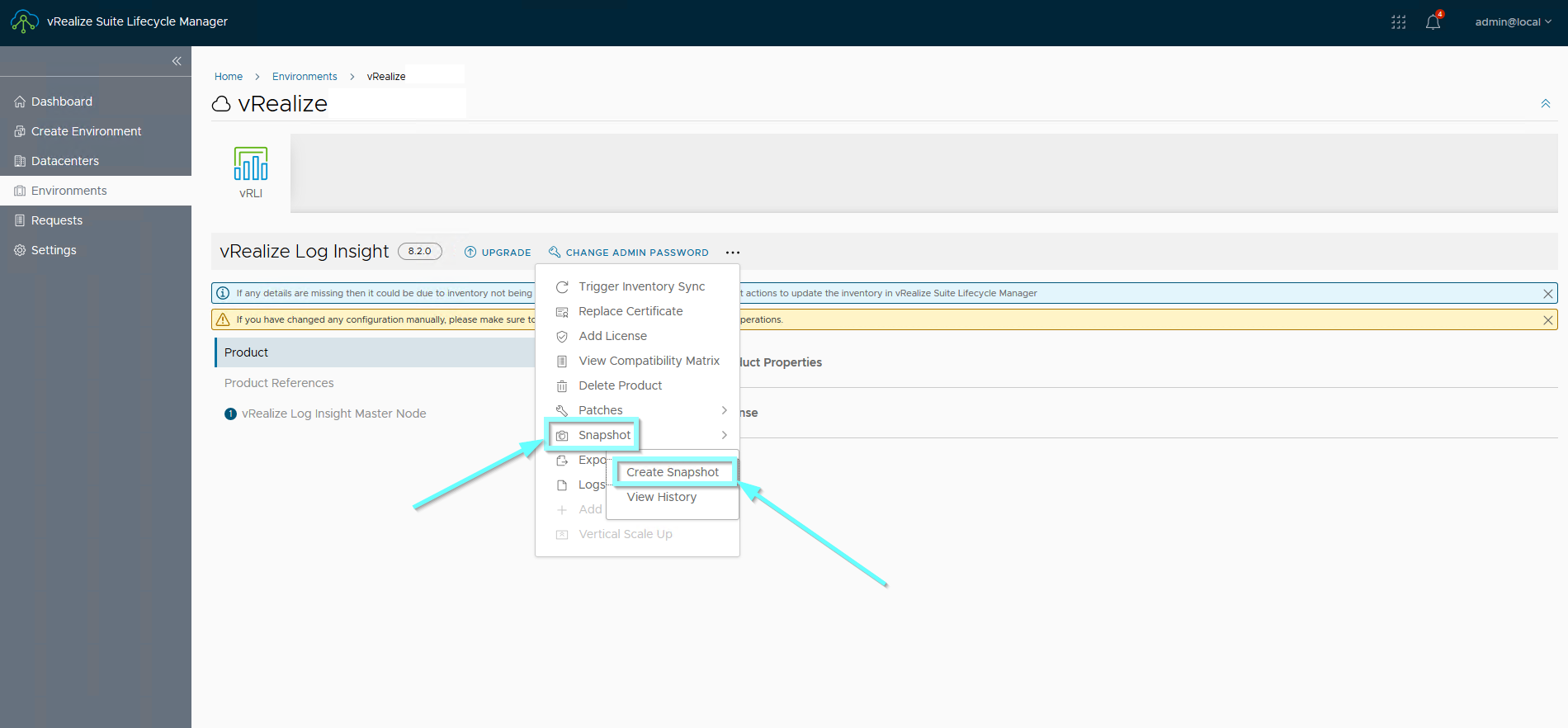 Snapshots for all nodes in the cluster will be created, no need to do it manually on each node. You can also click on the Upgrade button and it will remind you to take a product snapshot, so in case you forget it just click on Take Product Snapshot.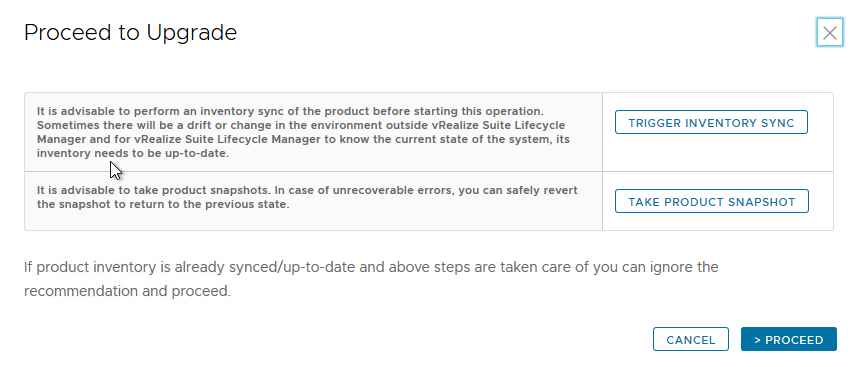 if already done, simply ignore this message and proceed with the upgrade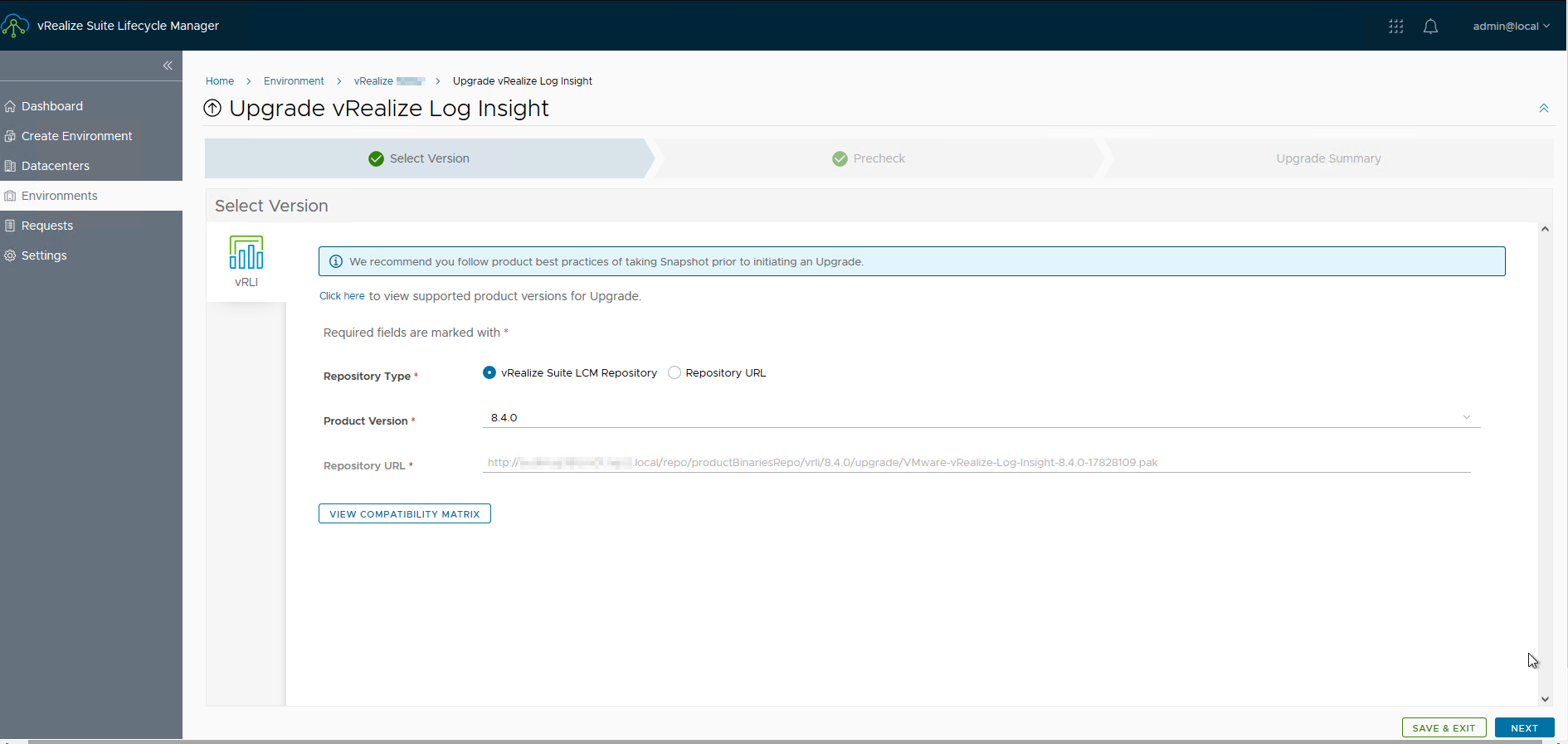 Click Next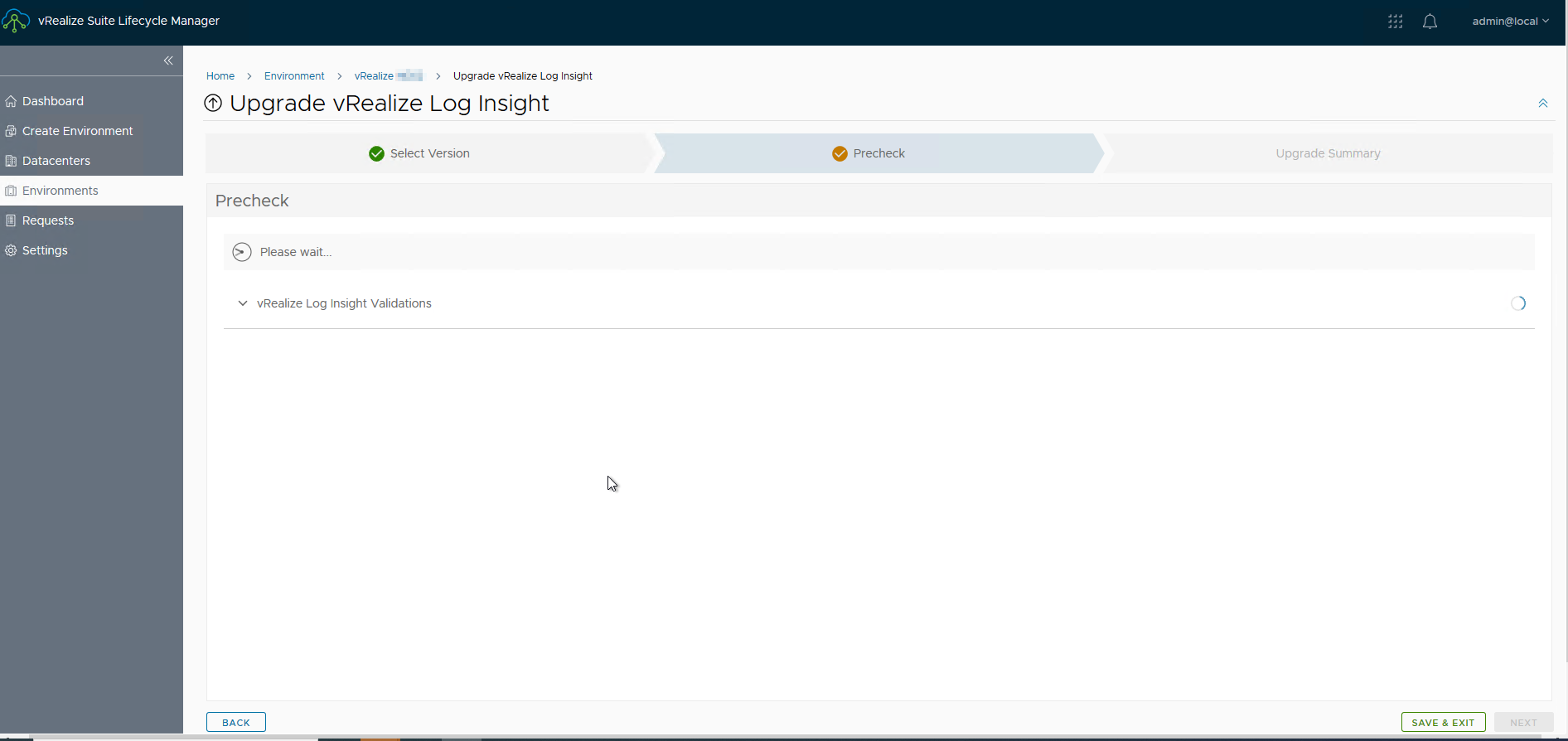 Pre-check works for a while


and if all validation passed choose Next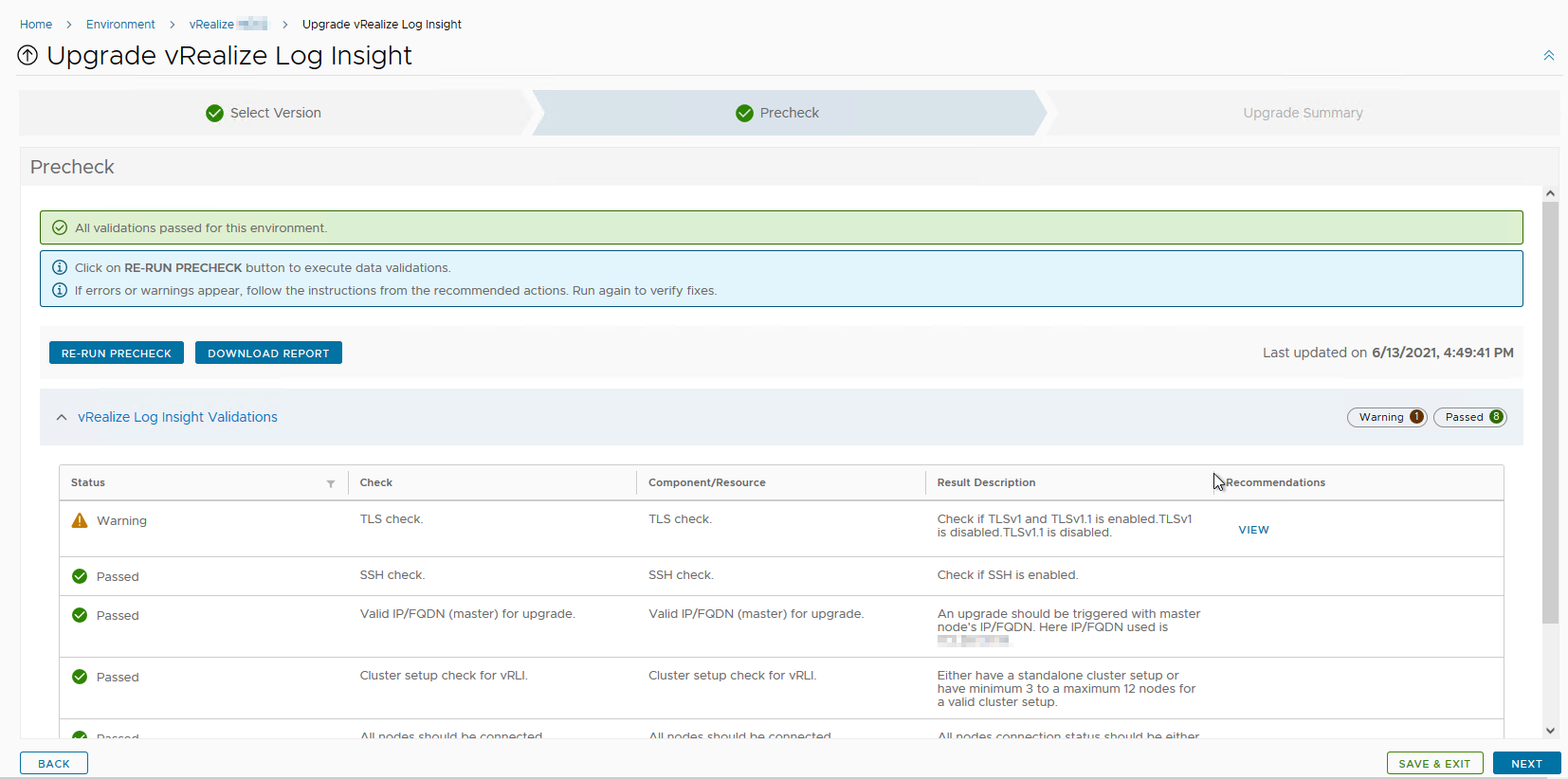 and click Submit to start with the upgrade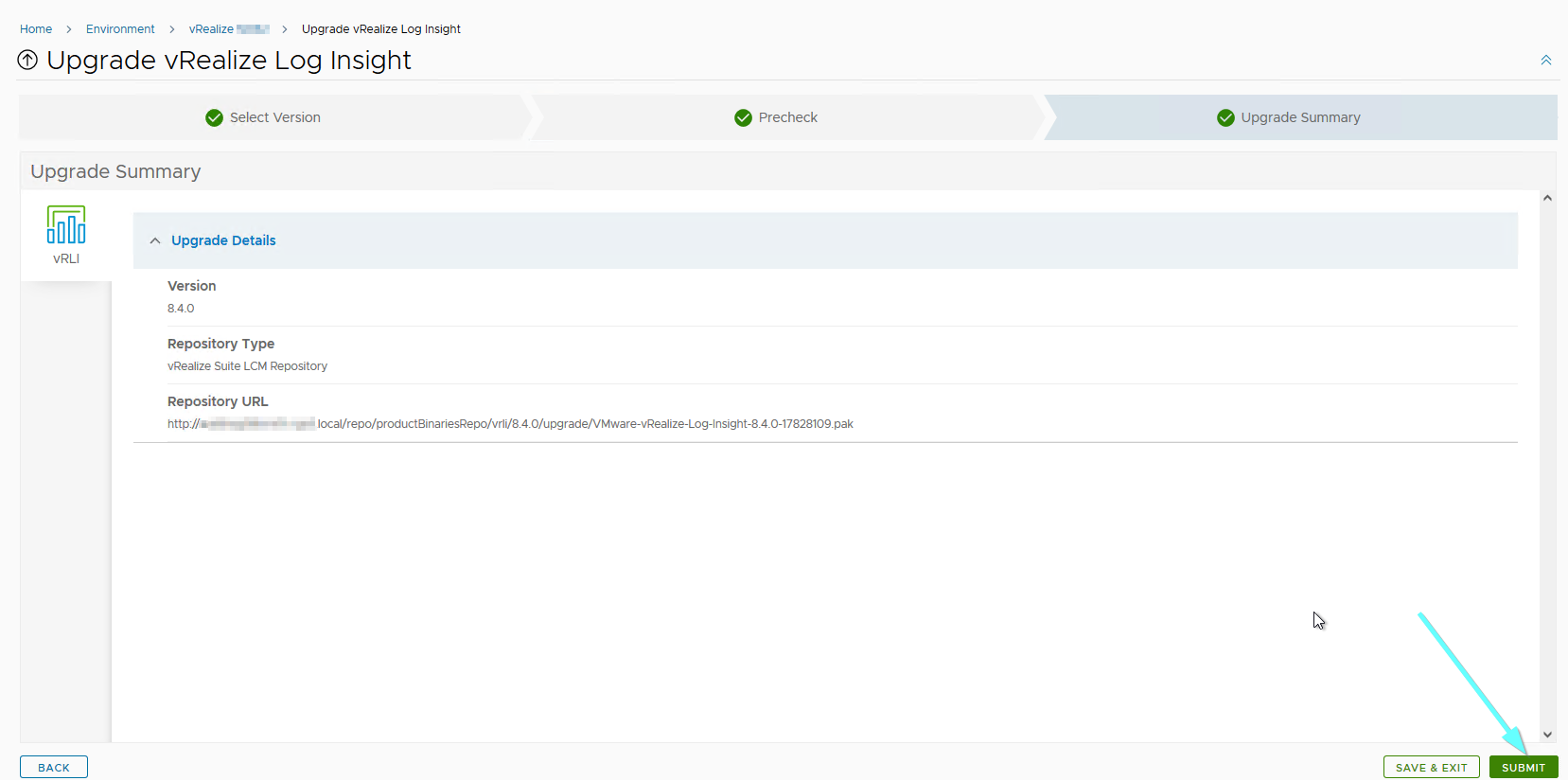 Similar to manual upgrade, you can check the upgrade progress in the Log Insight Cluster view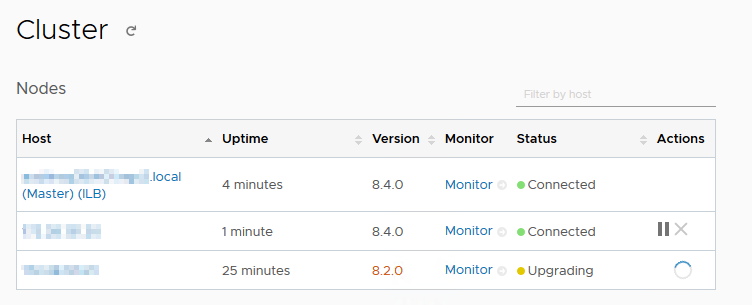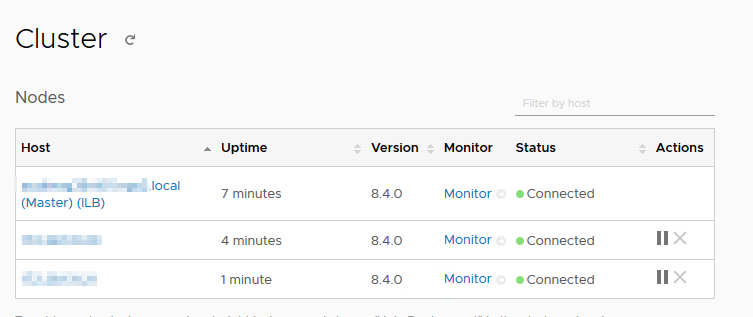 or in vRSLCM under Home > Requests > Number of your active request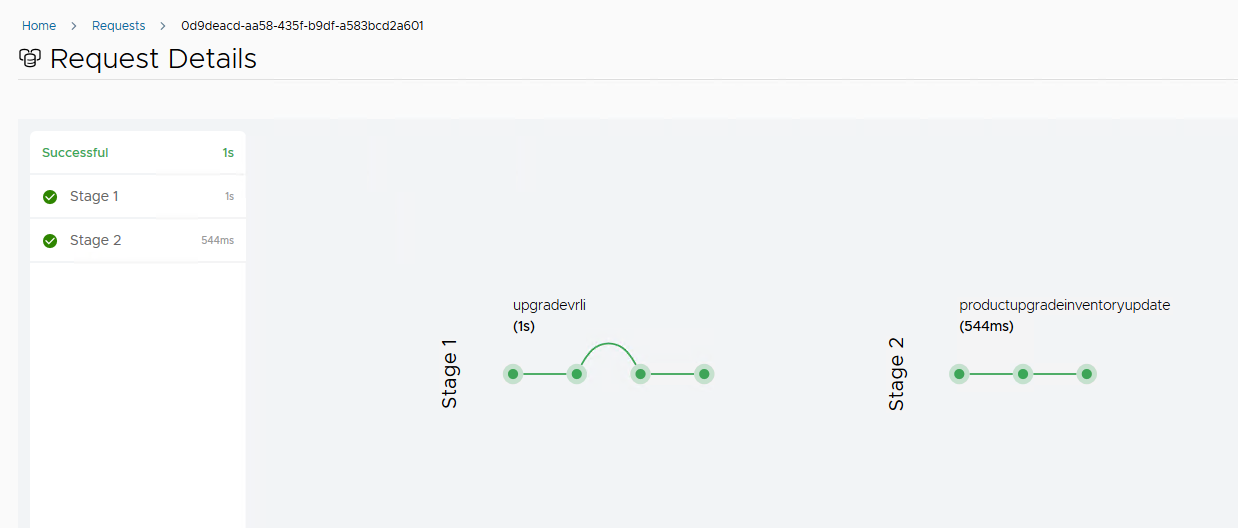 After a successful upgrade, if you have configured SNMP settings and administrator e-mails, you should receive an e-mail claiming Upgrade Complete.